Home

Season's Greetings!

The Economic Crisis:
&nbsp&nbsp&nbsp&nbsp A Dog's Perspective

About Those Hounds...

Our Hounds

Adopting a Friend

Adoption Application

Rescue of the Month

Special Rescues

The Bagel Shoppe

The Old Age Page

Black Listed Beauties

Getting Involved - Volunteering

The Ugly Truth

Success Stories

Wishlist

The Homewoods Herald

Houndware

Memorials

Muchas Gracias

Contact


Healing Hands Animal Hospital

Pryor's Planet

Ritchie Co. Humane Society

Humane Society of North Central West Virginia

Whimsical Animal Rescue


VOLUNTEERSHIP: JOBS THAT ALWAYS NEED DOING
Folks begin working with rescue programs for many reasons. Some like the fact that they are saving dogs' lives. Others care about the pet over population problem and want to work towards ending that. Many people are born teachers and would like to teach people about dog's. Some like the challenge of fund- raising and have combined the love of their dog with the needs of dog rescue. The dog rescue movement needs people from all walks of life with many different talents and skills. WE SURE COULD USE YOUR HELP!

FOSTERSHIP!
We need to maintain a network of foster homes where hounds awaiting adoption can be cared for until a new home is found. In a foster home a hound can be evaluated over a period of time. This will allow Homewoods to better evaluate the individual hound and then to place him in the appropriate home. The adoptive owner will also benefit because she will know more about her new hound. Interested? Please contact Marth at mhcrowdes@aol.com for more information.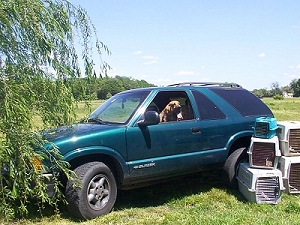 TRANSPORTATION: THE INCOMING AND THE OUTGOING
We need to maintain a network of ready, willing, available and able relayers to help with transporting rescued hounds. Volunteers generously donate their time, their gas by driving and sometimes providing overnight accommodations and meals for the wayfaring hound. Usually a relayer is contacted and a "relay" is set up to transport the rescued hound from point to point. Please contact Marth at mhcrowdes@aol.com for more information.

VARIOUS ASUNDRY VOLUNTEERS
If fostering and driving seem like too much to do, there are plenty of other odd jobs ! We need telephone volunteers to check on the references of potential adopters including their veterinarian. We also need volunteers to make pre-adoption home visits.

Another on-going need of Homewoods is money. As a private/independent rescue with no funding, we subsist solely on the generosity of a compassionate public. A successful fund raiser has a very special talent and Homewoods needs one of these people. There are always more worthwhile organizations requesting money than people have money to give. A talented fund-raiser is sorely needed to come up with the ideas and to help with the organization and leg-work for events from a dog walk to a black tie banquet! Please contact Marth at mhcrowdes@aol.com for more information.

To do our work successfully we must be known both locally and nationally. We need a publicity agent to contact local professionals to let them know that we are available and able to guide desperate dog owners to our rescue. We must be known so that volunteers can recruit new volunteers and professionals willing to work with Homewoods. The person in charge of publicity might submit regular publicity releases to local newspapers, might send in a particularly heart-warming story or might invite the local media to the next fund-raising event.

CNNmoney not so recently did an article on the rising cost of "pedigree, popularity, scarcity and novelty" in the dog world and we are proud to say that one of our puppies (already adopted, thanks to the exposure!) was chosen to be representative of a great dog from a rescue: just as lovable, just as smart, just as loyal, not to mention if not downright laid back, silly and a stress reducer! There are many wonderful dogs and pups to be found in rescues, shelters, SPCAs instead of from breeders or pet shops. Even CNN couldn't resist Bailey's charming smile! Please visit their site to read the article and see if you can find our Bailey! :o) Please contact Marth at mhcrowdes@aol.com for more information.

NEWSLETTER
We are trying to publish a newsletter. Volunteers are always needed to help with the this endeavor! If you write, draw, take good pictures, can type or have a computer, we would love your help. Or, if you have time to copy, collate, fold, staple address and stamp newsletters please contact Marth at mhcrowdes@aol.com for more information.

WHAT ARE YOUR TALENTS? WHAT DO YOU LIKE TO DO? CHANCES ARE, YOU HAVE SOMETHING VALUABLE TO OFFER HOMEWOODS AND WE WOULD BE MOST GRATEFUL!

And finally, as you can probably imagine, we are always in need of supplies! This is just a short list of what we run out of all too fast at Homewoods Rescue!


Dog food -- broken bags and dented cans are fine!!
Dog & Puppy Shampoo
Collars and leashes (Used? We'll take 'em!)
Flea & Tick prevention (Advantage & Frontline are awesome!)
Metal water buckets
Metal food bowls
Crates/Kennels
Kong & other toys
Dog beds
Biscuits & Treats
Blankets
Ear wash
Towels
DAWN Dish detergent
Laundry detergent
Paper towels
Plastic tarps
Bungie cords
Bleach
Gas cards and phone cards
Gift certificates always welcome -- WalMart, PetSmart, etc. especially useful
Relayers, overnighters and foster homes - ask us!! We'd be glad to send you info/registration forms!
We also need for adopters and helpful folks to spread the good word about Homewoods Rescue!