Share the L

VE!

Home

About Those Hounds...

Our Hounds

Adopting a Friend

Adoption Application

Rescue of the Month

Special Rescues

The Bagel Shoppe

The Old Age Page

Black Listed Beauties

Katrina's Other Victims

Getting Involved - Volunteering

The Ugly Truth

Success Stories

Wishlist

The Homewoods Herald

Houndware

Memorials

Muchas Gracias

Contact


Healing Hands Animal Hospital

Pryor's Planet

Wicomico Co. Humane Society

Dorchester Co. Humane Society

Ritchie Co. Humane Society

Humane Society of North Central West Virginia

Whimsical Animal Rescue
Keep Your Pet Safe from Potential Holiday Hazards this Valentine's Day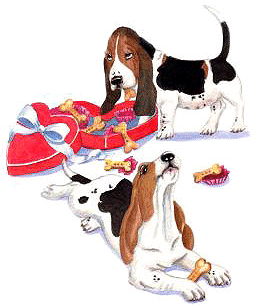 Leave the Sweets for Your Sweetie
HOMEWOODS RESCUE would like to offer a few tips to keep Valentine's Day with your pet problem-free. We've written to you before of the potential hazards ingested chocolate can cause your pet. We feel it important enough to reiterate since this is another time of year when chocolate can be found around the house and within your pet's reach. Depending on the amount ingested, chocolate is potentially poisonous to many animals. A good rule of thumb to remember is the less sweet the chocolate, the more toxic it could be. These particular chocolates contain theobromine, which is a substance similar to caffeine. Even in small, non-toxic doses, chocolate can still cause stomach upset, diarrhea, vomiting, hyperactivity, dehydration and seizures. It's best not to tempt fate with tempting chocolates. Leave the sweets for your sweetie.

However, pampering is never a bad idea. An extra long walk or a special brushing can be just what Cupid ordered. Exercise and grooming have infinite benefits for both of you. Treats of the non-edible kind are equally as satisfying. A new bed, toy or bone can help emphasize just how special our furry friends are to us.

Fatal Flora and Fauna


We would also like to remind you that many different varieties of flowers and plants are poisonous or harmful to pets. Different plants and flowers have varied effects. Rather than list them all, we'll just advise you to keep all plants and flowers away from curious pets. Cats, especially, find grass-like plants irresistible and have access to just about everywhere. Some of the more popular varieties that may be found around this holiday are: Baby's Breath, Chrysanthemums, Daffodils, various Lilies, Ferns, Hyacinth, Hydrangea, Impatiens, Lily-of-the-Valley, Rubber plants, and Tulips. Again, there are many more flowers and plants that can cause upset and even death to your pet, so please be aware to keep all varieties of flora and fauna away from them.



Including Your Pet on Valentine's Day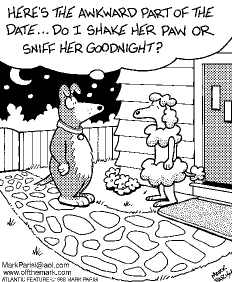 With Valentine's Day just around the corner, you might already have a gift picked out for that special someone. If you're a pet owner, though, you may be wondering if your favorite pet will feel excluded from the day's romantic festivities. You'll be happy to hear there are easy ways to include your pet in your Valentine's Day plans that may actually enhance the mood of the day.

If you plan on proposing on Valentine's Day, this is something in which your pet can easily be included. Have your pet wear a silk ribbon or special collar around their neck with the engagement ring attached. Let them greet your significant other and she will be tickled pink to see the surprise they're carrying. If she is in search of her own pet, this is an excellent way to give her a pet and an engagement ring at the same time!

Romantic getaways are popular choices for Valentine's Day. Include your pet by finding a destination that is pet friendly. Cozy log cabins and oceanfront houses will usually allow pets, and your pet will likely find the vacation as enjoyable as you will. Long walks on a wooded path or at sunset on the beach are not only romantic, but perfect ways to include your pet during your getaway.



Nothing Says "I Love You" Quite Like Warm Cookies



We all know that the route to our pets' hearts often leads directly through the stomach, so backing special treats is the perfect way to celebrate a doggy Valentine's Day.

Valentine's Day gift givers know that nothing can top the special touch of a homemade meal by candlelight. When it comes to Valentine's Day presents for dogs, I use the same concept and whip up a batch of homemade dog biscuits. The batch of "dog cookies" is fit for a king.

There's a lot of truth in the adage about dogs being our best friends. With Valentines Day coming, wouldn't it be sweet to treat your pooch to an extra-special delight?

This recipe for homemade dog biscuits could be just the thing! Gather all ingredients before starting and kids, be sure to have an adult supervise the baking. Here's what you'll need:
2 cups Wheat Flour
4 Tbsp. Vegetable Oil
1/2 cup Wheat Germ
1/2 cup Cornmeal
1 gently beaten Egg
1/2 cup Chicken or Beef Broth
1 Tbsp. Chopped Parsley
1 cup cooked chopped Chicken Livers
Preheat oven to 400F. Combine flour, wheat germ and cornmeal. In separate bowl, beat egg with oil, add broth and parsley, mix well. Add dry ingredients to liquid a little at a time, stirring well after each addition. Fold in livers and mix well. Dough will be firm. Turn dough out onto lightly floured surface and knead briefly. Roll out 1/2 " thick and cut into shapes. If you want to, shape the dough with your hands--just be certain the biscuits are a uniform 1/2 " thick Place on greased cookie sheets 1" apart. Bake 15 minutes or so. Keep in refrigerator or freezer. If frozen, be sure to thaw biscuit before feeding to pooch.

Your doggie will feel like the best Valentine on the block!

For those without the time, recipes or baking ability to make dog biscuits from scratch, there are a number of excellent gourmet dog biscuits on the market, made by dog lovers for dog lovers. Many specialty grocery stores, as well as many pet stores, sell such special treats, so finding them should not be difficult.

Additional Recipes Below!


Doggy Valentine Treats


3 Tbs. peanut butter
1/2 cup vegetable oil
2 eggs, lightly beaten
1 1/2 cups water
2 cups whole wheat flour
1/2 cup rolled oats
1/2 cup unsweetened carob powder*
1/4 cup peanut butter
1/2 cup finely shredded raw carrots

1) Preheat oven to 400 degrees.
2) Beat together peanut butter and eggs and gradually add in oil and water until thoroughly combined.
3) In a separate bowl, thoroughly combine flour, oats, and carob powder. Add to peanut butter mixture and knead with your hands to form a stiff dough.
3) Roll out the dough to approx. 1/4" thickness and cut into heart shapes, or mold into little heart shaped cookies using your hands.
4) Place on lightly greased cookie sheet, leaving about 1/2 inch between cookies. Bake for 20 minutes. Turn off oven, but leave the biscuits inside to crisp for another 3-4 hours.
5) Spread each cooled valentine with a thin layer of peanut butter and sprinkle shredded carrots around the edges.
And if you're more of the feline persuasion...



3 oz. low sodium sausage or finely ground beef
2 Tbs. instant oatmeal
1 large egg
2 Tbs. fresh organic catnip finely chopped (or 1 Tbs. dried)

1) Mix all ingredients together thoroughly and chill one hour until firm.
2) Form with hands into small round teaspoon sized balls, or mold into little mouse shapes.
3) Broil balls under a medium heat for 5-7 minutes, turning frequently until the outside is crisp. Store in refrigerator.