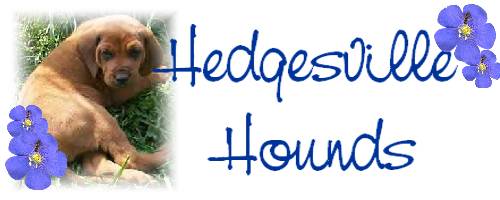 BIG NEWS! We have filed to become a nonprofit corporation in Maryland. This is the first step in becoming a 501c3 organization. (5/8/03) Check out more news on our News page!

Want to make a donation? Click here to find out how to give.

Who We Are
The Hedgesville Hound group is new, but our commitment is not. We are a group of people who have several decades of combined rescue experience. In fact, together we placed 60 dogs of all ages, breeds and sizes from the Hedgesville area last year. Who are the Hedgesville Hounds?

Although there is a Hedgesville, and we have definitely placed a fair number of hounds in homes, the term Hedgesville Hounds has become more emblematic than actual. It has its origins in one specific rescue that became quite inspirational to a number of rescue volunteers. It has since captured in its scope the determination of many people with a common interest - dogs - and an uncommon commitment to helping them.

What began as an effort to help a single rescuer who had become inundated with dogs, gained momentum as these dogs were successfully placed in wonderful homes. The dogs became a kind of rallying cry, a challenge, and a cause.

Hedgesville Hounds exist everywhere. They are dogs of every breed - every size - every age - who by circumstance, ignorance, or cruelty and neglect, were put at risk. Sometimes they are cats, and even rabbits.

Our effort has been quite simple - to give them a voice. And a little help with arrangements. And then let these wonderful creatures do the rest.

Frequently Asked Questions Click here!

The Adoption Process Click here! Our goal: the personal touch, the right fit.

One-on-One Communication: Once we have decided to pursue your application, we'll call you to answer your questions about the dog. If you have an hour's worth of questions, we'll give you an hour's worth of answers. This also makes applying a little more personal.

Adoption Counseling and Followup: Once you have adopted one of our dogs, you are encouraged to contact us for advice. We have a network of volunteers, adopters and experts on different breeds who are eager to help you with some of the problems you might face with your new pet. We'll also send you links to Web sites that might help.

Networking: We strive for a strong working relationship with many other rescue groups. If we don't have the dog you are seeking, we can refer you to someone who does.

Lifetime Guarantee: Despite best efforts to set everyone up for success, we will take back any of our own dogs should the adoption not succeed.

Wonderful Dogs: We are also a conduit to wonderful dogs whose existences are known only to a relatively small handful of other rescuers, and we make every effort to advertise those dogs to the public.

Our Medical Policy: After consulting with veterinarians and asking their recommendations, Hedgesville Hounds has developed a policy for veterinary services to be performed prior to or at the time you adopt your dog. We are grateful to Gaithersburg Animal Hospital of Gaithersburg, Maryland and Dr. Townsend of All Creatures Veterinary, Martinsburg, West Virginia for structuring their services at rescue rates.

Our vetting policy includes the provision of the following veterinary services and examinations, which are covered by your dog's adoption fee:
Preliminary physical exam checking coat and skin, eyes, ears, mouth, teeth and gums, heart, abdomen, lungs, legs and paws.
Neuter or spay and take-home medications like anti-biotics or pain medications
Vaccinations including rabies, distemper, parvo and bordatella
Heartworm test
Lyme Disease test
Fecal exam and worming medication as needed
Dental scaling and polishing if vet so recommends


Very Important! Adopters of rescue dogs should avail themselves of Shelter Care - an insurance program offered through Petfinder, which provides coverage for your new pet for the first 2 months FREE OF CHARGE as a service to adopters of rescue animals. NOTE - be sure to sign up for this coverage at least 2 DAYS prior to when your new dog's vetting procedures are scheduled!

We will acknowledge each application or inquiry we have received within 24 hours. If you do not receive a response, please assume that your application was not received or send an email to follow up.
Hedgesville Hounds
Rockville, MD 20850 Email: hedgesvillehound@aol.com
Click here for a list of pets up for adoption through this rescue.